Buy this beautiful print for $25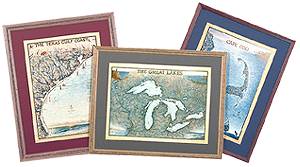 Purchase a matted and framed deluxe print for $99.99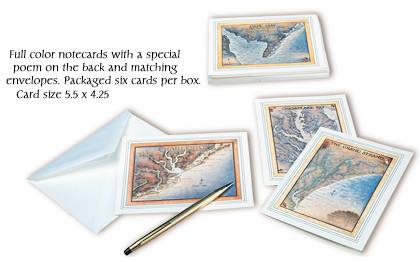 Buy a box of notecards for $5.99
For more information on our products please visit the Framing and Accessories page.

Oh, How I long to romp and roam
Neath the arms of the gray bearded kings,
Where the ocean's breeze twitters the leaves
With the lure of a sea island dream.
There where the gold-green marshes sprawl
In the land of moss and tabby walls,
"Old Prince" and "Neptune's" enchanted tales
Wax long-armed ghost and Gullah spells.

Oh, How I long to feel again
That sweet sun through the purple vines,
And the seines net's pull, with treasures full
And a seagull's call to soothe my mind.
Horse races down the old shell road
Burial mounds and the "Buzzard Lope,"
Black robed friars and Spanish gold
Blackbeard's tree and warriors bold.

Oh, How I long to hear once more
The boatman's songs across the bay,
And Bessie singing and the church bells ringing
And the rooster calling up the day.
Lone chimneys beneath magnolia blooms
Crabs scampering on the beach in June,
Bright fields of cotton and rice canals
Fireflies and herons and the hooting owl.

Oh, How I long for the salt wind's taste
When she shifts back-round from off the shoal,
And jasmine vines and Ogeechee limes
And precious memories that my heart still holds.
For I know now when the journey's over
It will come as no surprise to find,
When I think I'm finally heaven bound
It was there around me, all the time!
– Terry Moore ©2015