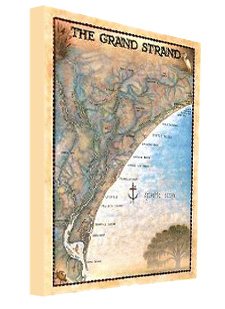 20" x 26.5" canvas wrapped print for $129.99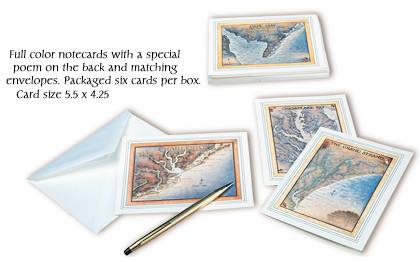 Buy a box of notecards for $5.99
For more information on our products please visit the Framing and Accessories page.


The sun rides in from "out the East"
On his sojourn across the sky,
As the mist of mornings' veil retreats,
"Blue Atlantic" shows her eye.

Gray bearded oaks with deep creased skin,
And ancient, silent ways,
Stretch out their arms to heaven's dome,
To greet the new dawn's day.

This is a land where history speaks
Of glories past and new
And legends still run long and deep,
From rivers winding true.

Tis' here the "Gray Man" walked the beach,
To warn off fate's cold hand,
And Theodosia lost long away at sea,
Yearned ever for these sands.

And Black Maria's tireless song,
Echoed to the shore,
As Alice searched a century on
For the ring she never wore.

And here the gulls to wing go sail,
And marsh hawks whirl and glide,
Above the "swashes," swirling spells,
Where Blackbeard's jewels still hide.

This is a place, much more than just,
A bridge of sand and sea,
That pulls you in and seals your heart
Into her destiny.

For the sun shall never rise again,
Nor the moon on oceans glow,
That you shall not recall the gifts
She gave you long ago.
– Terry Moore ©2015