Southern Atlantic

TWIN RIVERS & THE CRYSTAL COAST

Buy this beautiful print for $25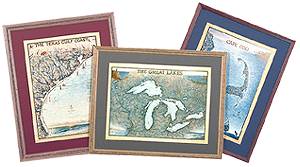 Purchase a matted and framed deluxe print for $99.99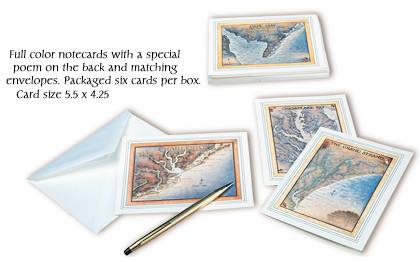 Buy a box of notecards for $5.99
For more information on our products please visit the Framing and Accessories page.

A brassy moon's riding low on the rim of the banks
Gazing in through the mist from the sea,
"Down East," wind's a-rising, the fish hawk's a-gliding
As night's curtain descends through the trees.
Campfires in the distant dim,
Glistening stars upon the shores,
Breed fisherman's tales of "Lukens" and gales
In air steeped with a magical lore,
'Twas here old Otway and Blackbeard roamed
O'er their kingdom of treasure and salt,
And forests of wild flowers
May hide 'neath their bowers secrets of colonies, lost.
"Sound Sharpies" and skiffs still "run for the drain"
Where the Lyle guns once did "bark,"
And recall the cold night the "Crissie Wright"
Surrendered her crew to the dark.
Upways, proud New Bern stands on at her post
Where the Trent and the Neuse flow free
And history's line, unbroken by Time
Still weaves her rich tapestry.
This land's of "sounders" and "shadders" and "salts"
Where the sea's voice calls through the trees,
To hearts that will follow the songs of her shallows
As they sing on the breath of the breeze.
– Terry Moore ©2015