Southern Atlantic

TOPSAIL ISLAND
Middle Sound to Sneads Ferry

Buy this beautiful print for $25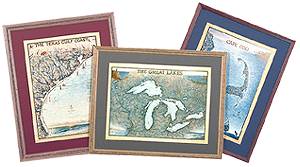 Purchase a matted and framed deluxe print for $99.99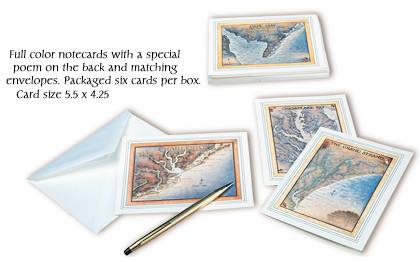 Buy a box of notecards for $5.99
For more information on our products please visit the Framing and Accessories page.

There is an island at the edge of the great wide sea
That stands like a bridge to eternity,
Where a child long ago ruled and roamed
As conquering king and lord of the foam.
There from a dune he could look o'er to Spain
As he played in her sun and drank her rain,
With never a thought to the mainland's cares
Or the march of time and the change of years.
Oh, but the secrets of those sands and place
Where plovers waltzed and blue crabs raced,
And pelicans were all pterodactyls then
And every new face revealed a new friend.
A sand fiddler was more treasured than gold
And there was no song sweeter than the waves on the shoal,
And every passing mast held a buccaneer's sail
And every cloud that flew by was riding a gale.
Sometimes when the breeze blows 'round just right
And the moon shows up with his ole pal the night
With the whiff of hushpuppies riding the air
A veil covers time and once more I am there;
At that edge, by the sea where I long to be
Where the blue and the deep ever call to me,
And the wind still blows in from distant Spain
And for one brief moment I find that child again.

– Terry Moore ©2015